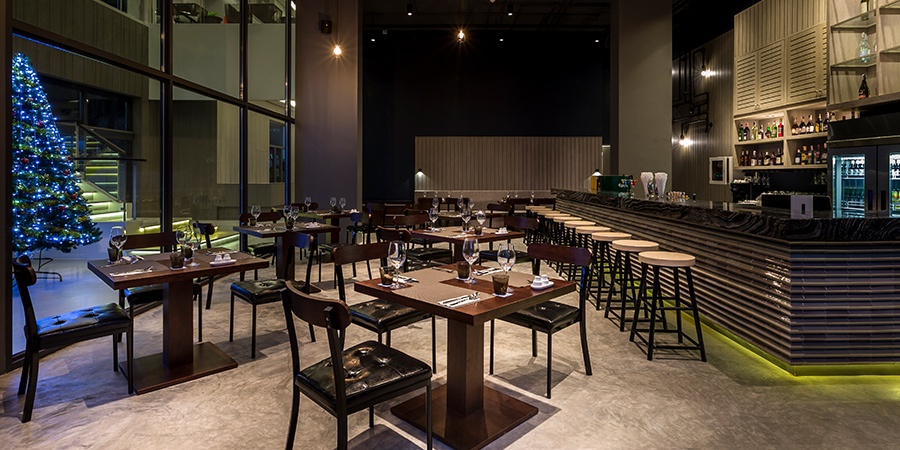 Mellow MOOD
Ombré is one of a kind. By definition, ombré means a woven design in which the colour is graduated from light to dark.
This represents the varying tastes in the cuisine offered here a mix of mellow Western flavors and delectable Asian tastes to cater to different moods of diners.
Food is about pleasure, so why choose anything less than the best.
The best, to us, means they are locally sourced, fresh and cooked with care.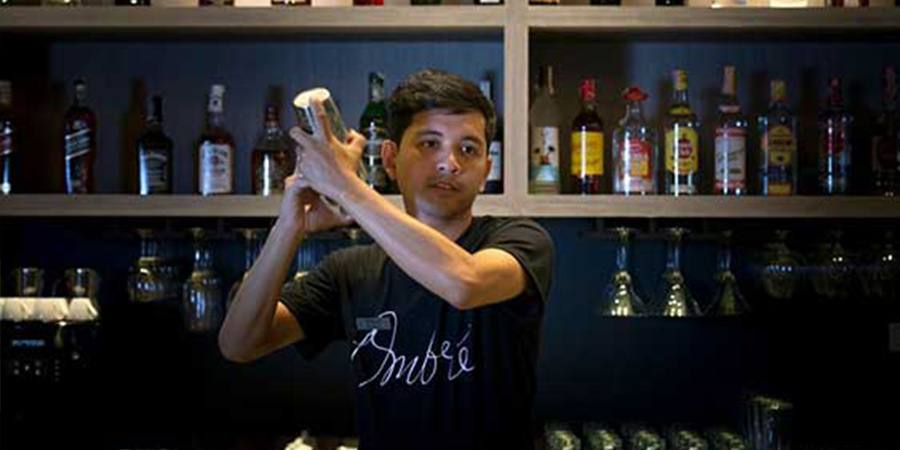 Chic AFTER DARK
Cozy atmosphere, great food and refreshing cocktails, Ombré makes a great spot for colleagues and friends to unwind after the day's work or to catch up over weekends. We ourselves prefer attentive service, great music and a friendly set up, and so we make it our priority to offer you the same.

GREENS & VEGGIES
Grilled Beef Salad
295
Perfectly qrilled beef on a bed of mixed greens
Caesar Salad
280
Topped with soft-boiled egg
Seared Tuna Salad
380
Freshly seared tuna with sesame on a bed of greens
SHALL PLATES
Spinach & Cheese
280
Baked spinach and cheese
Garlic Fries
155
Crunchy French fries coated with and spices
Calamari
250
Fried Calamari and side of tartar sauce
Chicken Nachos
245
Nacho chicken Mexican tomato capsicum with cheese
Double Dip Chicken Wings
195
Fried chicken wings with hot sauce and tartar dip
Chicken Waffles
350
Crispy chicken with fluffy homemade waffle
Pulled Pork Burger
350
Juicy slow-cooked park on homemade buns
Chicken Fajitas
280
Chicken wrap with tortilla Mexican style
Barbeque Spare Ribs
450
Local style fried rice with a choice of chicken, pork or beef
Larb Tord
255
Deep fried spicy minced pork balls
Plar Salmon
320
Spicy Thai – Style Salmon Salad
Fried Chicken With Herbs
255
Deep Fried Chicken Mixed with delicious Thai Herbs
MAIN
House Burger
350
Grilled beef potty, cheddar cheese, spicy caramelized onions in a warm burger bun
Grilled Seabass
550
Served on a bed of beans and carrots
Onbré Steak
750
Grilled rib eye steak
House Roast Chicken
380
With potatoes and carrots
Quesadillas
350
Double tortillas stuff with chicken capsicum onion with cheese
Kraprow Fried Rice
195
Thai style fried rice with basil leaves
Chicken Cashew Nut with Rice
250
Served on rice
Green Chicken Curry
250
Thai green curry with a choice of rice or roti
Pork Cordon Bleu
350
Crumbed pork escalope stufed with ham and cheese served with potato wedges
Pasta & Noodles
Spaghetti Carbonara
280
Spaghetti with Cream Souce bacon and ham
Pesto Penne
250
Penne with homemade pesto sauce
Khaosoi Gai
225
Thai-style curry noodle soup with chicken
Desserts
Ice-cream with fresh fruits
150
Homemade Banoffee
190
A layer of cre'me fraiche, banana, caramel on biscuit crust
Chocolate Tower Waffle
250
Homemade chocolate waffle topped with chocolate ice-cream and whipped cream
* All prices are in Thai Baht and subject 10% Service charge and applicable govemment tax